Discover Chesapeake City, Maryland
By Debbie Huff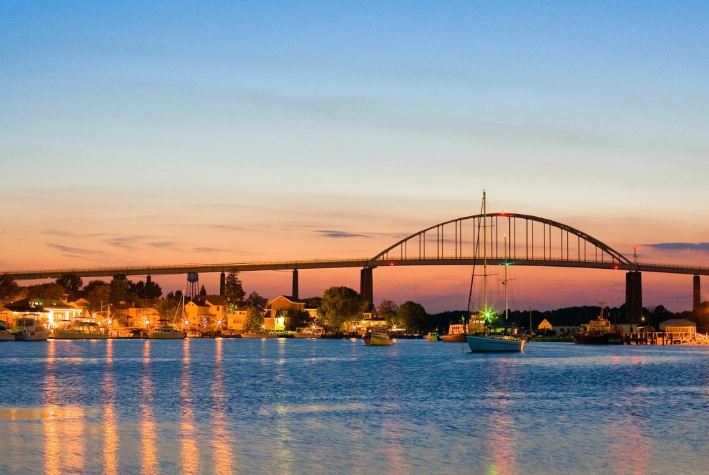 Welcome to Chesapeake City, Maryland, where your dream home awaits! If you're in search of a picturesque and historic town to call home, look no further. Chesapeake City offers an array of stunning houses for sale that will capture your heart. Let's explore the real estate market and find the perfect property for you.
Conveniently located just a short drive from several major cities, including Baltimore, Philadelphia, and Wilmington. This makes it a great location for residents who want to enjoy the benefits of small-town living while still having easy access to big-city amenities. Residents can enjoy a day trip to one of these cities and return to the peace and tranquility of Chesapeake City at the end of the day.
A small town with a close-knit community with a population of approximately 700 residents with low crime rates, excellent schools, and a welcoming atmosphere. The town's Main Street is lined with quaint shops, restaurants, and cafes that offer a personalized shopping and dining experience. The town also hosts several festivals and events throughout the year, the Fourth of July Fireworks, and the Christmas Parade, providing opportunities for residents to get together and celebrate the town's culture and community.  The town's rich history dates back to the 1800s, with many of the buildings and homes in the town preserved and restored, giving visitors a glimpse into the past. The Chesapeake City Historical Society offers walking tours of the town and has a museum that showcases the area's history.
Chesapeake City, Maryland, is a charming and picturesque town that offers residents a high quality of life. With its scenic beauty, outdoor activities, historic charm, and small-town community, it is an ideal location for those who value a relaxed lifestyle while still having access to big-city amenities. Whether you are looking for a weekend getaway or a permanent home, Chesapeake City has something to offer everyone.
Charming Homes for Sale in Chesapeake City, MD
Chesapeake City, MD, is renowned for its small-town charm, Victorian architecture, and breathtaking waterfront views. With a variety of homes for sale, this hidden gem on the Chesapeake and Delaware Canal is an ideal destination for those seeking a peaceful community.
Your Gateway to Historic Beauty
Embrace history and beauty by exploring the houses for sale in Chesapeake City, MD. From waterfront properties with panoramic canal views to modern single-family homes, Chesapeake City offers a diverse selection to suit all tastes and preferences.
Preserving Heritage, Embracing Modernity: Homes for Sale in Chesapeake City
Experience the best of both worlds in Chesapeake City, where historic charm meets modern convenience. Our town has retained its architectural beauty while embracing contemporary amenities. Discover your dream home and relish the enchantment of living in Chesapeake City, MD.
Find Your Slice of History: Houses for Sale in Chesapeake City's Old Town
Step back in time and explore the Old Town district of Chesapeake City, MD. Here, historic homes dating back to the 19th century offer a unique blend of character and charm. Immerse yourself in the town's rich history while enjoying original details such as hardwood floors, ornate woodwork, and wrap-around porches.
Modern Comforts in Chesapeake City: Contemporary Homes for Sale
If you prefer newer construction, Chesapeake City also features modern homes that perfectly blend comfort and style. Open floor plans, spacious kitchens, and updated amenities await you. Enjoy the best of modern living while embracing the distinctive architectural style of our town.
Embrace Nature: Homes for Sale in Chesapeake City's Outdoor Paradise
Living in Chesapeake City means having access to an abundance of outdoor recreational activities. The Chesapeake and Delaware Canal offers boating, fishing, and kayaking opportunities along with the C & D canal cycling trail, while the nearby Elk Neck State Forest beckons with hiking, camping, and wildlife observation. Your dream home in Chesapeake City comes with a natural playground at your doorstep.
Start Your Journey Today: Contact your local Real Estate Agent in Chesapeake City, MD
Ready to find your dream home in Chesapeake City, MD? It's time to connect with Debbie Huff, a knowledgeable and experienced local real estate agent. She will guide you through the process, help you discover properties that meet your criteria, and negotiate the best deals on your behalf. Begin your journey today and embrace the beauty and charm of Chesapeake City, Maryland.
Debbie Huff is a local real estate agent in the Chesapeake City, MD area who specializes in residential real estate.  With her enjoyment of the outdoors, she can help you locate your dream home.  Whether that is waterfront, historical, or contemporary homes that you are looking to buy or sell.